---
Next Meeting:
Tuesday
August 6, 2019
6 pm
Union Hall


---
Find us on

Welcome to Local 3207's Web site!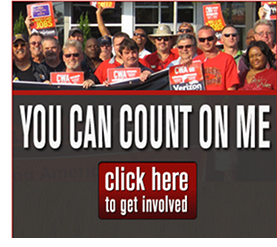 CWA, a 501(c)(5) organization is America's largest communications and media union, representing over 700,000 men and women in both private and public sectors, including over a half million workers who are building the Information Highway.

CWA members are employed in telecommunications, broadcasting, cable TV, journalism, publishing, electronics and general manufacturing, as well as airline customer service, government service, health care, education and other fields. In the Augusta, Georgia area, we represent employees from AT&T.

The Union includes some 1,200 chartered local unions across the United States, Canada and Puerto Rico. Members live in approximately 10,000 communities, making CWA one of the most geographically diverse unions.

AT&T Southeast Contract Bargaining is underway.
Click here for bargaining updates

AT&T 3rd Quarter Surplus has been announced. AT&T employees who want to take SIPP for this surplus have until June 30, 2019 to apply. Remember, applying for SIPP means you definitely want to leave the company.

Attention Members!


We will be sending you important votes via US Mail. If you are unsure we have your correct address, please send your name and full address including zip code to



address@cwa3207.org

HELP US MOBILIZE! YOUR JOBS, PAY AND BENEFITS DEPEND ON IT!

On August 3, 2019 we will be gathering at the Union Hall for end of the contract.

You are an integral part of your local. We can't conduct many functions of the Local without our members present at the monthly meetings.
---
The triangle symbolizes the three major programs of the union:

Representation
Organizing
Community/Political Action

If the triangle is broken on any side, sooner or later it will be broken on every side. CWA's founding President, Joseph Bierne, called this the "triple threat".