---
April Meeting Cancelled
Next Meeting:
June 6, 2023
6pm
---
Find us on

Welcome to Local 3207's Web site!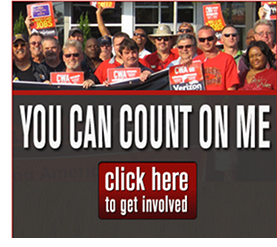 CWA, a 501(c)(5) organization is America's largest communications and media union, representing over 700,000 men and women in both private and public sectors, including over a half million workers who are building the Information Highway.
CWA members are employed in telecommunications, broadcasting, cable TV, journalism, publishing, electronics and general manufacturing, as well as airline customer service, government service, health care, education and other fields. We represent employees of AT&T in the Central Savannah River Area covering the east side of Georgia and the west side of South Carolina. We also cover employees of Palmetto Rural Telephone Cooperative, Inc in South Carolina.
The Union includes some 1,200 chartered local unions across the United States, Canada and Puerto Rico. Members live in approximately 10,000 communities, making CWA one of the most geographically diverse unions.
Questions about COVID-19? Click here for info at the CWA National Website.

Attention Members! We will be sending you important votes via US Mail. If you are unsure we have your correct address, please send your name and full home address including zip code to
Pro Act Passes in the House --
On Tuesday, with bipartisan support, the U.S. House passed the Protecting the Right to Organize (PRO) Act, one of CWA's top priorities for building worker power. The PRO Act would be a game-changer for millions of workers by making it easier to join unions, win first contract agreements, and engage in more powerful strikes.
President Biden has said he will sign the PRO Act as soon as it lands on his desk, making the fight in the U.S. Senate the key to giving working people the tools they need to regain power in their workplaces. While the PRO Act also passed the House during the most recent Congress, CWA activists did not take Tuesday's vote for granted. They worked tirelessly to make sure CWA members contacted their members of Congress about the importance of the bill. Their efforts paid off – not only did the bill pass, but three members of Congress who voted against the bill in 2020 voted for it this time. CLICK HERE to read more and for information on contacting your Senator.
A tentative agreement has been reached. Bargaining updates can be found here.
Joseph Beirne Scholarship
The Foundation's Board of Directors has approved the awarding of sixteen (16) partial college scholarships of $4,000 each for two years. Eligible for the scholarships are CWA members, their spouses, children, and grandchildren, including the dependents of retired, laid-off, or deceased members. Applications will be available solely online for submission on the Foundation's website at http://cwa-union.org/beirne-application.
---
The triangle symbolizes the three major programs of the union:

Representation
Organizing
Community/Political Action

If the triangle is broken on any side, sooner or later it will be broken on every side. CWA's founding President, Joseph Bierne, called this the "triple threat".
---
Member's Corner
Do you have a notice about a member that you would like highlighted here? Send the information to webmaster@cwa3207.org.